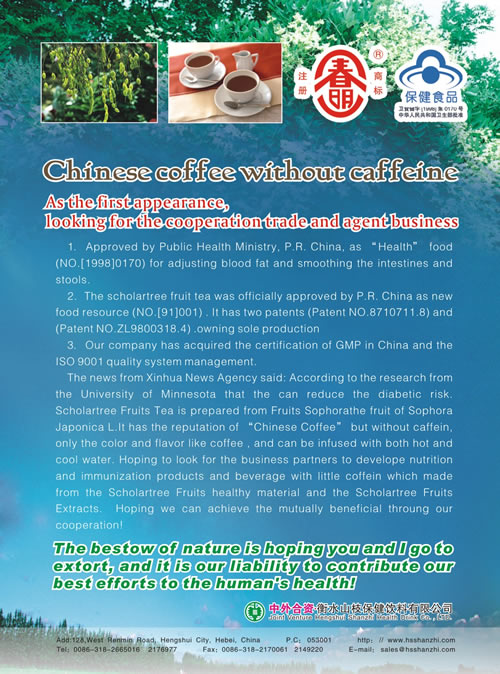 Name

Scholartree Fruits Tea(tea-bag)

Scholartree Fruits Extracts

Bulk Scholartree Fruit Tea

Specification

1.5gs/bag×3bags/box×100/carton

20kgs/bag/carton

20kgs/bag/carton

Main Ingredient

Sophora beans,Red date

Technological Process

Sophorabeans--Pickout(Cleaning)—Infrared roasting—Separate and Picking out –Mixed—Microwavedrying--sterilization--Bulk Scholar tree Fruit Tea(1)Automatic Separate Packing--Scholartree Fruits Tea((tea-bag)Extracting and Condensing----Spraydrying---Scholar tree Fruits Extracts

--Inspection--Packing--Leave factory

Health effect

1.smooth the intestines and stools

2.lower the blood pressure and reduce the body weight

3.adjust blood fat and restrain the forming of thrombus

Characteristic and use

The color and distinctive smell just like coffee but without caffeine at all; the customers praise it as 'Chinese Coffee'. Drinking with boiled water or cool water. It can be widely used in health raw materials, functional additive and colorant; It also develop into health food, nutrition immunity products,functional health products,health juice beverage and biologic health products etc.

Microbial Index

Bacterium500cfu/g、Colon bacillus:negativePathogenic bacteria:none

Preserve means

Normal temperature preserves on general, no influence to its health effects.

Certificate of Invention

A kind of tea making technology with fructus sophorae,patent No.:87107111.8

A kind of health food making technology with fructus sophorae,patnet No.:ZL9800318.4

Certificate of

Health Product

Approved by Public Health Ministry,P.R.China as "New FoodResource"---No.WXSZZ(91)-001

Approved by Public Health Ministry P.R.China as "Health"food for adjustingblood fat WSJZ [1998]No.170 and smoothing the intestines and stools WSJZ(1998)No.0170.
One of world Unique ,One of China Unique
The series products of Scholartree Fruits
The "chunming" brand Scholartree Fruit Tea is prepared according to the theory of traditional Chinese medicine from Scholartree Fruits with Chinese name Huai Shi (Sophorae Japonica L.) by scientific progress. It smells delicately fragrant and tastes slightly bitter just like coffee but without caffeine and was praised as "Chinese coffee" without caffeine by abroad customers.
Scholartree Fruits can clear away pathogenic heat ,remove heat from the blood moisturize the intestines to relax the bowels ,regulate metabolism of blood lipid ,lower the blood pressure ,slim and restrain thrombosis .it is applicable to hemorrhoid ,constipation and habitual constipation to the aged .the product contains lot of nutrition such as protein ,flavone ,triterpenoid saponins , genistein ,quercetin ,linoleic acid etc.
It was passed provincial technical test in Hebei Province in 1985 and was approved by state intellectual property office of P.R.China as patent products in 1998 and "new Food Resource" WSXZZ (91) No.001 by the Hygiene Disease Station of Hebei Province. And many tests including safe coefficient, the Physical and Chemical Index, Toxicology and pharmacology on Scholartree Fruits Tea were taken in the Medical Institute of Hebei Province, the traditional Chinese Medical Research Institute of China, the Tumor Research stating of Hebei Province and the Beijing Medical University of China in the 27th August 1991. The products have passed through ECOCERT,JAS,NOP, CCOFCC and Kosher certification.
Scholartree fruits has a serial products: Scholartree fruits Tea in bags, bulk Scholartree fruits Tea, Scholartree Fruits Tea Extracts, Scholartree Fruits Tea Extracts granule. It is widely used in the field of biotechnology, nutritional immunology products, functional health products, health aids, health products additives, elderly health and nutrition products, product features senile constipation, functional health of coffee, functional health beverages, a variety of health tea.
Scholartree Fruits Tea (tea-bag).
It has the obviously effects of relaxing the bowels and mainly suit for the constipation and hemorrhoid at the same time it has the function of adjusting blood fat .it can make the body health, preventing disease, curing the disease and enhance the immunity .
Usage: put the tea-bag into a cup of boiled water or cool water.
Bulk Scholatree Fruits Tea.
20kg per bag, mainly used for satisfying the customers' using needs of health ingredient .because its natural fragrance, coffee-like color and smell and distinct health care function can be used into the development of other health care food .we can process this to extreme tiny powder and granule and assist customers develop new health food like capsule troche and so on .
Scholartree Fruits Extract
Scholartree Fruits Extract Tea is prepared from Scholartree Fruits (Sophorae Japonica L.) by modern scientific method. It's a kind of pure natural solid health drink with distinctive smell, color and flavor like coffee (caffeine free). There is the tea suitable for patients suffering from habitual constipation, a type of hemorrhoid and regulation metabolism of blood fat. The tea was approved by the Public Health Ministry, P, R. China as "HEALTH" products------WSJZ [1998] No.0170 . It is also a patent product (Patent No.87107111.8 and 9800318.4).
The characteristics of the product are as follows:
3.1 The natural flavor and the nutrition of Scholartree Fruits was perfectly kept .
3.2 The color is similar to coffee without any sediment in either hot or cool water.
3.3 can be mixed with milk powder fruit powder and vegetable powder as additive and colorant.
3.4 have a good stability.
3.5 can be made into capsule troche and can add the function of relaxing the bowel by mixed with coco.
3.6 We suggested that you may exploit various kinds of health product which mixed with Scholartree Fruits Extract according to the needs of the people in different region.
3.7 20kg per bag , packed in aluminum foil bag with nitrogen filling in vacuum .
3.8 convenience in transport ,normal temperature for storage and no need of cold storage.